How to Test Abandoned Cart
Go to your Storefront. https://your-store-name.myshopify.com If the store is password protected, please click this page on how you remove it
Add product(s) to your cart
Proceed Checkout (You must proceed to checkout (this is not an abandoned browse feature) you must attempt the complete the checkout process).
Fill in the Email Address for the order (no other fields are required). We must have an email address entered in order to be able to detect the Abandoned Cart.
Check HubSpot to search for the contact under the deals section (Ecommerce Pipeline). As soon as the email is entered and the person has navigated to payment page, we will detect the cart as abandoned.
The Deal will move to the "Checkout Pending" stage for 15 mins. If the purchase is not completed, it will then move to "Checkout Abandoned" stage.
If the purchase is completed, the deal will move to "Processed" or "Shipped" whichever applies but it will not go back to "Checkout Completed".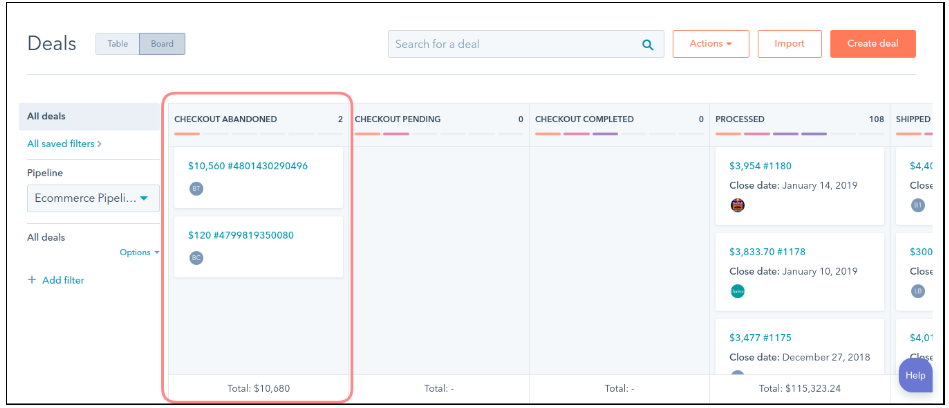 ***Even though Unific sends abandoned carts to the deal stages in HubSpot, the details of the abandoned cart are actually housed in the Contacts Abandoned Properties on the contact record page (see list of abandoned cart contact properties here).

To see how the abandoned cart feature works in it's entirety, please refer to the article here