This article walks you through the steps of installing Magento 2 Sync by Unific
Section 1: Setting up
1. Sign up for an account
To create an account for Unific Integration with Magento 2 fill in your email and desired password at: https://app.unific.com/signup?productName=sync&platformA=hubspot&platformB=magento
2. Connect HubSpot
Once you create an account the steps to have it fully set up will show on the left. The first thing you will do is connect your HubSpot portal.
The first step is to click on the Hubspot icon and a new window will pop up.
*Remember to disable your pop-up blocker for this specific website to prevent any problems when setting up.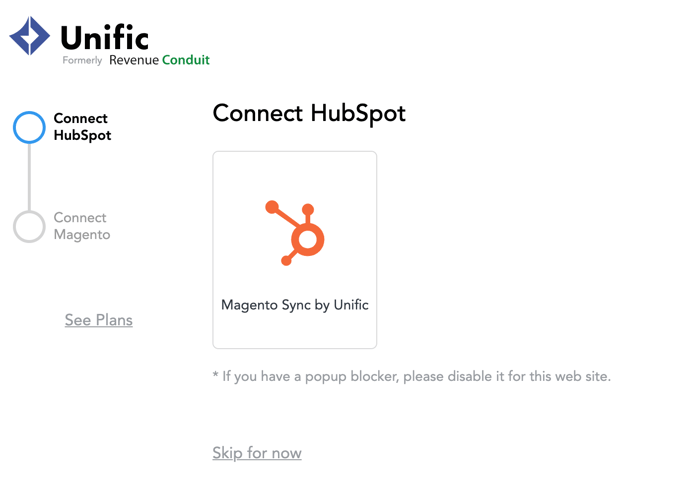 Then, you will need to sign in to your HubSpot portal and choose the account you want to link.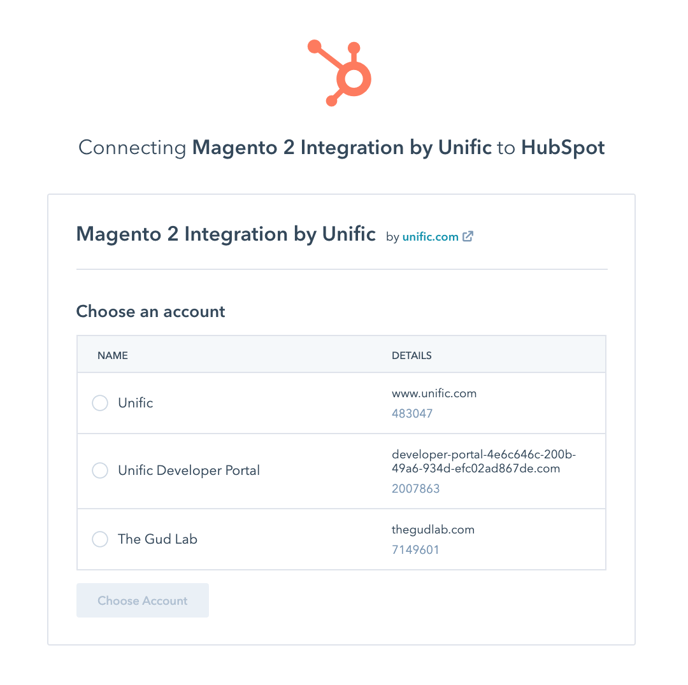 This window will automatically close and bring you back to your Unific Portal where a green checkmark will appear on the corner of the Hubspot icon indicating a successful connection.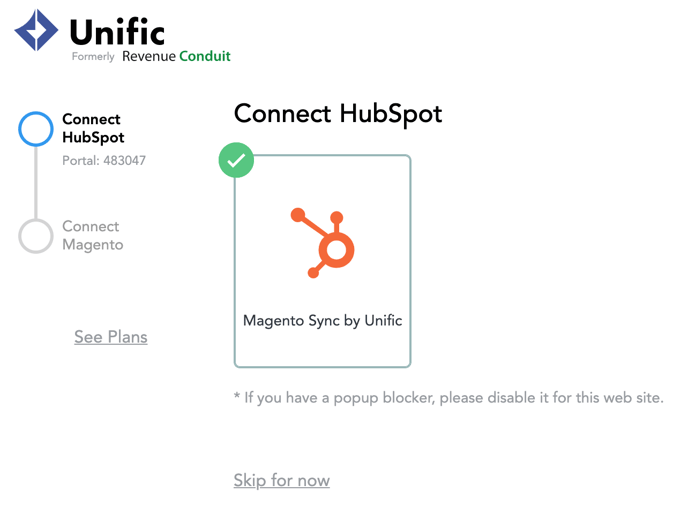 3. Connect Magento 2
Connecting Magento has several steps: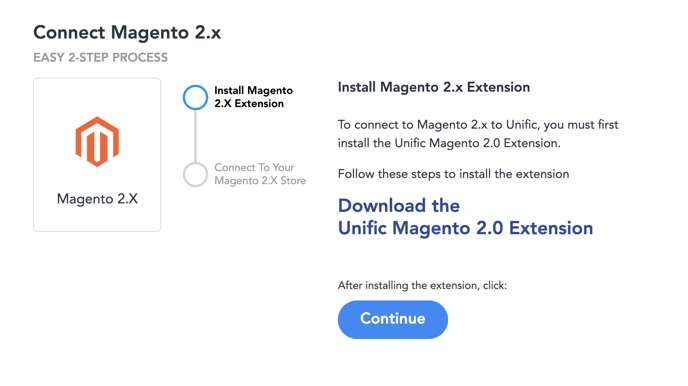 A) Install the Magento 2 extension
Installing the Magento 2 extension has its own KB article that you can follow at Magento 2 Setup for Unific and Hubspot
You may need a developer to install the Magento 2 extension. You can send them the link to Magento 2 Setup for Unific and Hubspot
Then provide them email and password for your Unific account

B) Connect your new Magento 2 Sync by Unific account to your Magento 2 store
After following the steps laid out in the Magento 2 Setup for Unific and HubSpot the Magento 2 Unific Connector extension should be installed and Magento 2 should be connected to your new Unific account.
If you are having trouble, please submit a ticket through https://help.unific.com/en/kb-tickets/new
4. Confirm connection
After you've connected your Magento 2 store to Unific
Create a test customer in Magento by going to the customer registration
Unific will sync your new test customer in 2 - 5 minutes or less.
You can also see the "Sync History" screen inside of Unific to see events that Unific is capturing (see screenshot below).

5. Sync Status
You may also see Unific's status at any time by going to https://status.unific.com/